Bringing Burrows & Hare to Marlow
The story of Burrows & Hare began back in 2015, where we opened our first men's clothes and accessories shop in Oxford. After great success in the area, due to selling a wide range of high-quality menswear from outstanding brands, we became an award-winning retailer.
This led us to the next step in our journey, opening a Marlow men's clothes shop. Launching in January 2023, the new location stocks an array of men's fashion designed by Burrows & Hare, as well as a range of grooming products and men's shoes in Marlow. Each piece seen in our shop or website is a modern classic, featuring timeless designs with a meticulous finish.
Collection
Men's Coats
Whether you're in need of something water resistant, or a thick winter coat for the colder seasons, you'll find it in our clothing shop in Marlow.
Shop coats
Collection
Men's Knitwear
Our men's knitwear in Marlow features a range of classic designs, with casual wear and smart wear options, including men's jumpers and cardigans.
Shop Knitwear
Collection
Men's Jackets
Pick up a new men's jacket in Marlow, perfect as a layer for an extra bit of warmth all year round.
Shop Men's Jackets
Collection
Men's Shoes
We stock products from leading brands such as Sanders, Solovair and Veja Shoes in Marlow.
Shop Men's Shoes
Collection
Grooming
We're experts in men's grooming in Marlow, offering a collection of products to keep you looking and feeling your best.
Shop Grooming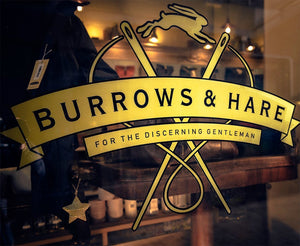 Our Philosophy
Here at Burrows & Hare, we pride ourselves on only stocking the highest quality brands, specialising in men's clothing and accessories. We ensure we give back to the independent designers that contribute to our product range, whilst sharing the philosophy that good things are meant to last. We believe in the statement "buy less but buy better quality goods", which helps to reduce waste and pollution in the fashion industry. 
We have everything you need to create a sustainable wardrobe, with a collection of men's clothes available in different styles, from slim-fit white shirts to casual shirts and vests to men's coats and jackets. Visit our shop in Marlow to view our latest pieces.
Location
Store Information
Browse our range of men's clothing in Marlow at our store, opening January 2023.
Hours
Mon - Sat, 10am - 7pm
Sunday, 11am - 5pm
Address
2 Market Square,
Marlow SL7 1BE
"
Very quick and pleasant delivery not used it yet but I have already purchased the Arlington shampoo bar. Looking at reducing my carbon footprint which with this range I can do (shaving soap refill). Love the citrus smell of this range

"
"
A great website made selecting and ordering straightforward. The next-day delivery was exactly what I needed and the whole process was completed without fuss, with the item arriving well packaged and as described, including a freebie - perfect!

"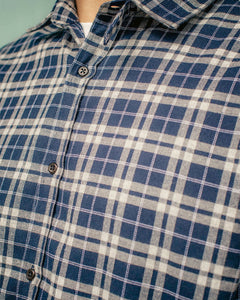 Journal
5 Luxury Christmas Gift Ideas for Him
Want to treat the man in your life to something extra special this Christmas? Whether you are looking for a gift for your husband, boyfriend, father, brother, or any other important man in your lif...
Read more